The Bets Are on Blockchain: 1xBit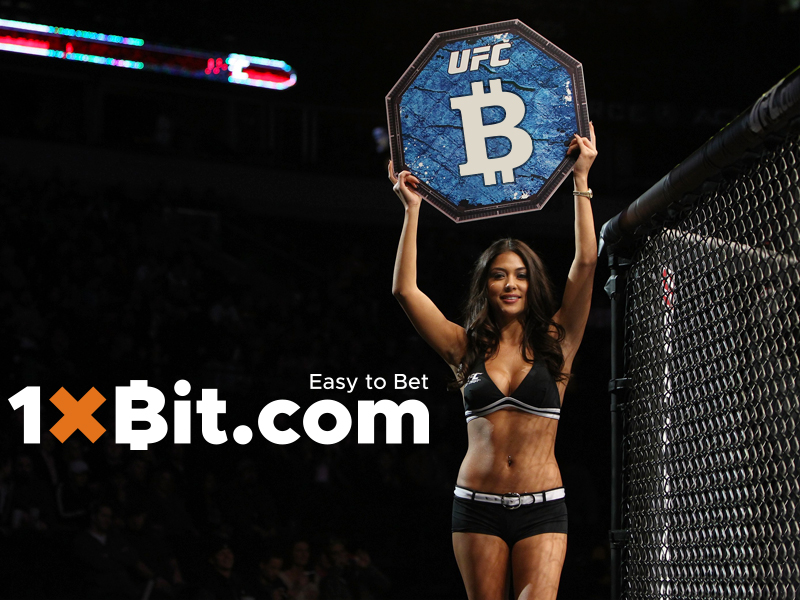 Cryptocurrency has been embraced as a form of payment by various industries and brands. To the joy of crypto enthusiasts that have a knack for wagering, the sports betting scene has also taken a like to digital currencies.
A former fiat sportsbook, 1xBit, converted to Bitcoin payments, instead of just adding the coin to its list of currencies. The platform has the most versed and extensive list of sport and events in the crypto betting market. But this is not a Bitcoin-only bookie, as it's supporting deposits and withdrawals in more than 20 other coins such as Ethereum, Litecoin, and Monero. Each sport features an abundance of betting categories.
In addition to the plethora of sports and betting options, users are also able to live bet on various events. 1xBit features an online casino, virtual games and a lottery, which makes it a versatile platform for any kind of player that wishes to try out his luck or skill by wagering on sports, events, or games.
New UFC Section Now Available on 1xBit
The platform is divided into various betting sections according to the sport of interest, and the latest member to join the family is a section dedicated entirely to UFC. Ultimate Fighting Championship (UFC), a renowned mixed martial arts promoter, has spread even further. This expansion includes TV channels and is reaching entirely new markets in Australia, Asia, Europe, and the UnitedStates. UFC has garnered a great deal of mainstream media coverage for its top fighters and matches. It has attracted the attention of both media and sports fans.
Taking into account this increase, 1xBit created the section to cater to the betting needs of UFC followers.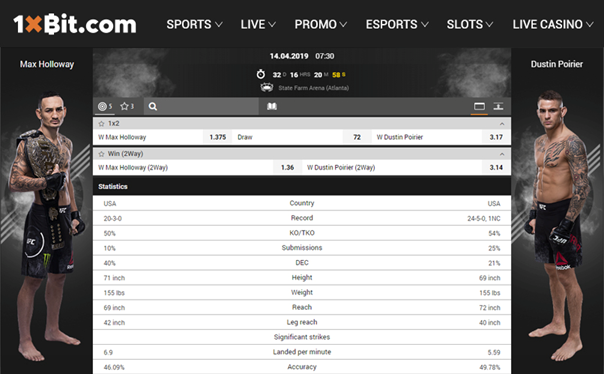 Blockchain Getting Bookies into Shape
Wagering platforms are not always seen as trustworthy or fair by the general community. This is because, in several instances, they have been proven to be unfair and greedy to the point of manipulating the players through fake odds and stats to intentionally make them lose.
Bookies that use distributed ledger technology through the implementation of cryptos can provide a solution to the issues of unfairness and deceit.  Crypto transactions are always recorded on their respective chains, and all the stored data remains there forever, without the possibility of ever being modified or deleted.
Slow transactions can also be remedied by incorporating DLT, as cryptocurrencies midway third parties for financial settling are not in the equation.
The sign-up process with traditional bookies is long, tedious and involves revealing personal information. But registering for an account on 1xBit is the complete opposite. In order to create an account on the platform, the user just has to provide an email address and select the preferred currency account. The are no personal details, no long forms or complicated verification times. Just one click and a password and the user ID will be generated and sent to his/her email.
By enabling the two-factor authentication feature for their account, users do not have to worry about security breaches.
Blockchain can bring a great number of advantages and improvements to a number of problems which are currently in the betting industry.
Crypto Advertising in Sports
Crypto projects first started to branch out by partnering with brands and companies that were somehow close to the technological sector. But why remain confined to only one audience? The world of sports welcomed digital coins and their adoption movement.
Last year, the Litecoin Foundation paired with Ultimate Fighting Championship (UFC) in order to increase the coin's market visibility. This partnership made Litecoin the first cryptocurrency to be included in a UFCfighting ring. Litecoin's contribution to the UFC scene for this year involved sponsoring Ben Askren, a UFC 235 fighter.
1xBit covered in its blog post a similar case on this topic which took place on February 23rd. The Stratis blockchain project offered to sponsor boxer James DeGale in his match for the Super-Middleweight award. Stratis (STRAT) is a platform which is specialized in offering services needed to create and deploy decentralized apps (dApps) for private blockchains.
The blog features a news section for those interested in the latest happenings in blockchain and sports, as well as guides that offer help for various setups or bets.
UFC fans which are also crypto enthusiasts can access the 1xBit site to find out more or to place a bet on their number one contender.
The Stability is Here: USD Tether Comes to 1xBit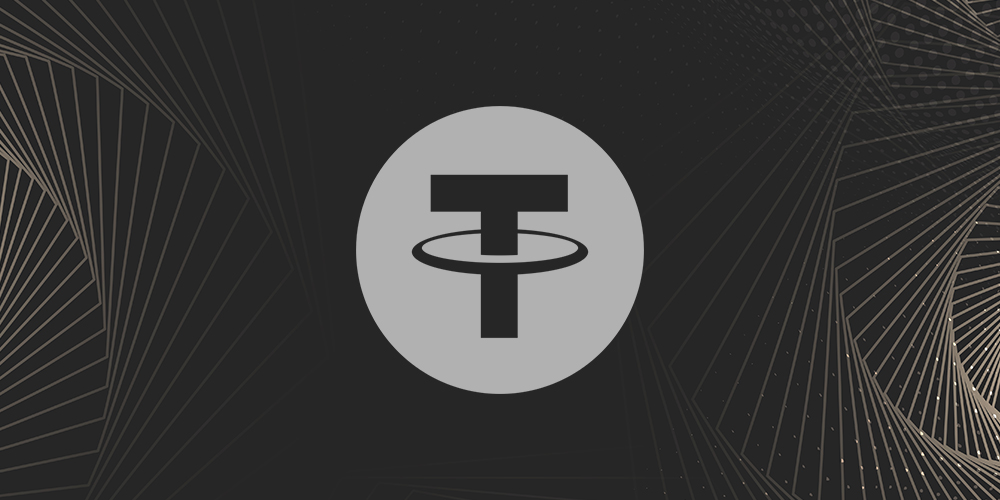 Cryptocurrencies have been stirring the interest of the general public for the last several years, mostly because of the wild price swings that yielded massive profits for the dextrous speculators. The unprecedented level of security, almost complete non-traceability, superior speed of transactions, and substantially lowers fees are among the factors that facilitated the embracement of cryptocurrencies by the millions around the globe.
But on the flip side, high volatility, inherent to digital currencies, has oftentimes dissuaded traditional investors, traders, and common users from entering the space. However, things have changed after the emergence of stablecoins, the type of cryptocurrencies explicitly designed to provide holders with a hedge against severe volatility, thanks to their direct binding to the so-called "stable" class of assets or commodities. Those assets come in the form of the traditional fiat currencies (USD, EUR, CNY) or the traded commodities (gold and other precious metals, crude oil, rubber). Over a short period of time, stablecoins became a cog in the crypto machine, with one coin currently dominating this niche.
USD Tether: stability amidst the total volatility
Similar to Bitcoin, the dominance of which has already surpassed the 70% mark, USD Tether (USDT) currently holds the upper hand among the peers. The idea concerning the issuance of a cryptocurrency that would be pegged to the US dollar, along with a basket of other traditional currencies, to provide…
Now is the Perfect Time to Become a BitStarz Affiliate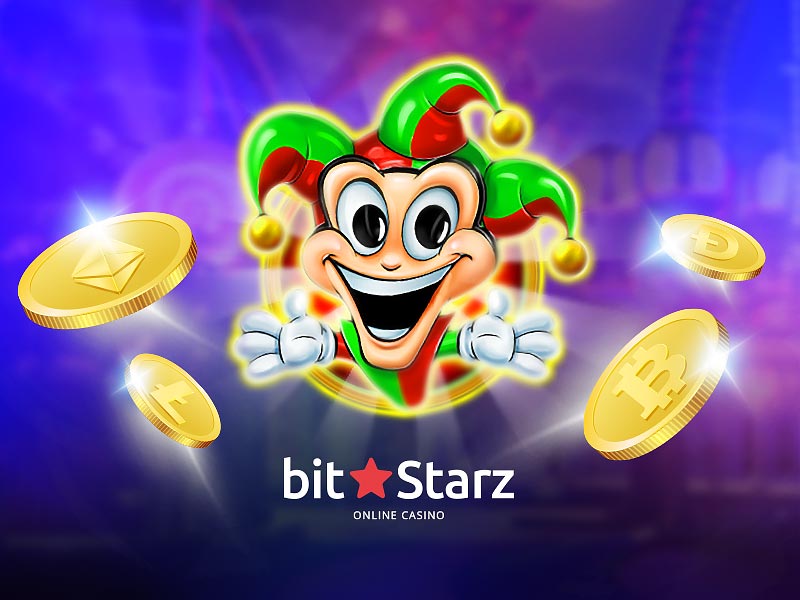 Cryptocurrency isn't just a passing fad or get rich quick scheme, it's an innovation that is changing the world as we know it. No industry has benefited more from cryptocurrencies rocket to the moon than iGaming, as it's grabbed onto the digital coin revolution with both hands.
What was once something offered by just a few niche casinos has actually catapulted the likes of BitStarz to industry superstardom. The growing benefits of Bitcoin and other cryptocurrencies used in iGaming simply can't be ignored, with affiliates now also able to reap the benefits – there simply is no better time to become a BitStarz affiliate!
Affiliate Marketing is a Money Maker
Affiliate marketing has a hand in almost every industry, even if you don't see it. In fact, from retail all the way through to ICOs, affiliate marketing has a role to play in generating business and brand awareness for companies around the globe. This certainly isn't a one way street relationship either, as affiliates under the right scheme can generate huge revenues.
Where there is iGaming there is affiliate marketing, the two just seem to go hand in hand. Long before other industries woke up to the value of affiliate marketing, iGaming was already ahead of the curve. Now, take a new innovation like crypto, which commands headlines, and mesh it with the ever popular online casino industry…
Australia progressively develops a crypto scheme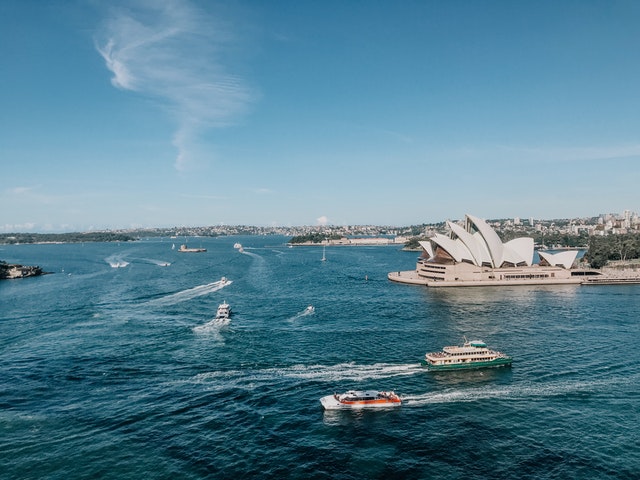 Cryptocurrency and the Bitcoin first entered our vocabulary in 2009. It has been 10 years and up to now many people recognize this terminology, however, it is not really used for payment. Despite it is slow progression worldwide, Australia is a growing market for it. Gambling and online casino is also strongly developing in Australia and it is using more digital exchanges. According to various statistics – online casino Australia is a widely researched topic and surely is attracting more and more people along with cryptocurrencies. There had been some changes in taxation and cash payments, so it is very likely that Australians will go digital and buy cryptocurrency very soon.
Australia has legalised cryptocurrency since 2017 with the support of the government. They have to be treated as property and subject to Capital Gains Tax(CGT). The change in tax law surely demonstrated how Australia is progressing towards digital.
In 2018, new cryptocurrency exchange regulations came into place and it got more complex. The new rules required exchanges to be registered with the Australian Transaction Reports and Analysis Centre (AUSTRAC) in order to prevent deceptive activity.
Australia looks ready to include Initial Coin Offerings (ICOs). They are cryptocurrency's way of community funding, which came into public back in 2014. Although it has been banned in China and criticized By the Us, Australia keeps being open to new possibilities…