The Bets Are on Blockchain: 1xBit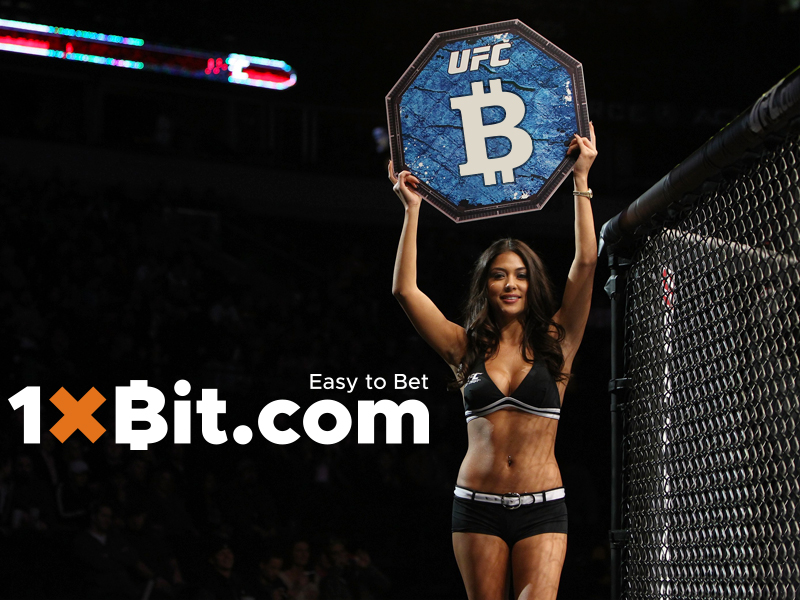 Cryptocurrency has been embraced as a form of payment by various industries and brands. To the joy of crypto enthusiasts that have a knack for wagering, the sports betting scene has also taken a like to digital currencies.
A former fiat sportsbook, 1xBit, converted to Bitcoin payments, instead of just adding the coin to its list of currencies. The platform has the most versed and extensive list of sport and events in the crypto betting market. But this is not a Bitcoin-only bookie, as it's supporting deposits and withdrawals in more than 20 other coins such as Ethereum, Litecoin, and Monero. Each sport features an abundance of betting categories.
In addition to the plethora of sports and betting options, users are also able to live bet on various events. 1xBit features an online casino, virtual games and a lottery, which makes it a versatile platform for any kind of player that wishes to try out his luck or skill by wagering on sports, events, or games.
New UFC Section Now Available on 1xBit
The platform is divided into various betting sections according to the sport of interest, and the latest member to join the family is a section dedicated entirely to UFC. Ultimate Fighting Championship (UFC), a renowned mixed martial arts promoter, has spread even further. This expansion includes TV channels and is reaching entirely new markets in Australia, Asia, Europe, and the UnitedStates. UFC has garnered a great deal of mainstream media coverage for its top fighters and matches. It has attracted the attention of both media and sports fans.
Taking into account this increase, 1xBit created the section to cater to the betting needs of UFC followers.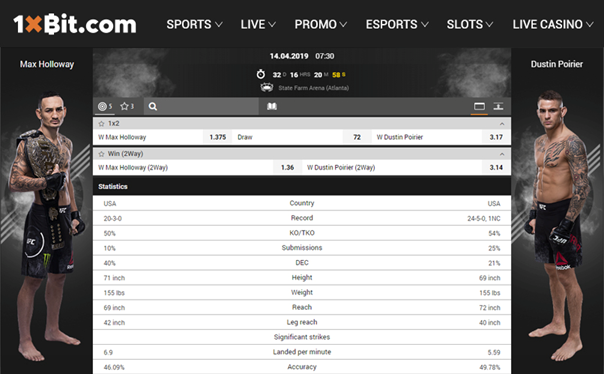 Blockchain Getting Bookies into Shape
Wagering platforms are not always seen as trustworthy or fair by the general community. This is because, in several instances, they have been proven to be unfair and greedy to the point of manipulating the players through fake odds and stats to intentionally make them lose.
Bookies that use distributed ledger technology through the implementation of cryptos can provide a solution to the issues of unfairness and deceit.  Crypto transactions are always recorded on their respective chains, and all the stored data remains there forever, without the possibility of ever being modified or deleted.
Slow transactions can also be remedied by incorporating DLT, as cryptocurrencies midway third parties for financial settling are not in the equation.
The sign-up process with traditional bookies is long, tedious and involves revealing personal information. But registering for an account on 1xBit is the complete opposite. In order to create an account on the platform, the user just has to provide an email address and select the preferred currency account. The are no personal details, no long forms or complicated verification times. Just one click and a password and the user ID will be generated and sent to his/her email.
By enabling the two-factor authentication feature for their account, users do not have to worry about security breaches.
Blockchain can bring a great number of advantages and improvements to a number of problems which are currently in the betting industry.
Crypto Advertising in Sports
Crypto projects first started to branch out by partnering with brands and companies that were somehow close to the technological sector. But why remain confined to only one audience? The world of sports welcomed digital coins and their adoption movement.
Last year, the Litecoin Foundation paired with Ultimate Fighting Championship (UFC) in order to increase the coin's market visibility. This partnership made Litecoin the first cryptocurrency to be included in a UFCfighting ring. Litecoin's contribution to the UFC scene for this year involved sponsoring Ben Askren, a UFC 235 fighter.
1xBit covered in its blog post a similar case on this topic which took place on February 23rd. The Stratis blockchain project offered to sponsor boxer James DeGale in his match for the Super-Middleweight award. Stratis (STRAT) is a platform which is specialized in offering services needed to create and deploy decentralized apps (dApps) for private blockchains.
The blog features a news section for those interested in the latest happenings in blockchain and sports, as well as guides that offer help for various setups or bets.
UFC fans which are also crypto enthusiasts can access the 1xBit site to find out more or to place a bet on their number one contender.
Predict The Bitcoin Trend and Win Every 5 mins!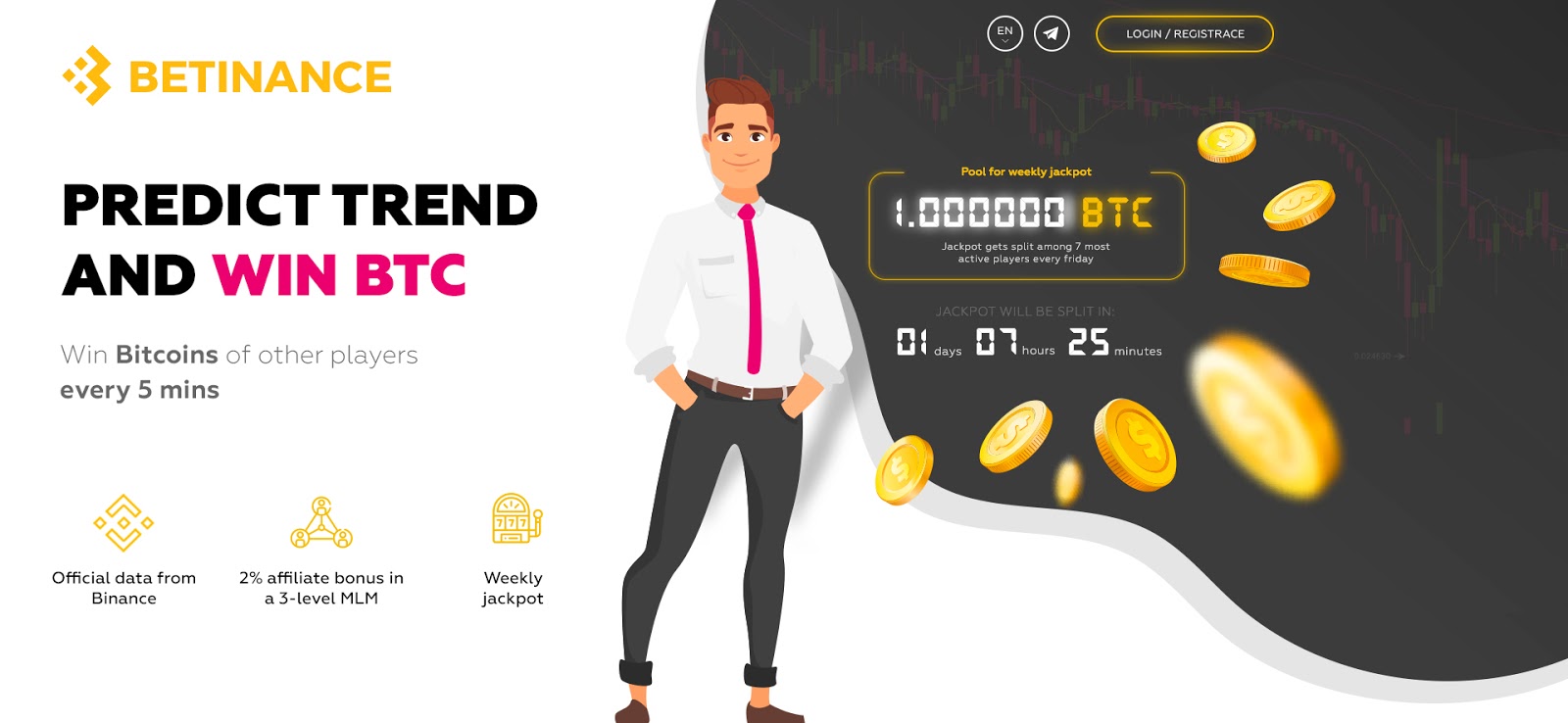 Predict the Bitcoin trend and get rewarded every 5 mins! Betinance, an alternative Bitcoin gambling platform, is officially launched. Unlike other similar platforms, Betinance currently offers only one type of game where players compete with each other not against the platform. You can bet whether Bitcoin's price will go UP or DOWN every 5 mins and win bets from other players.
Betinance is one of the first platforms bringing similar concept alive. There are no unfair rates or hazy betting conditions. Just place your bets and compete with other players. If you are either a recreational player, an expert in Bitcoin technical analysis or a passionate gambler, you can use your experience and profit from it on the platform.
Free BTC, NO deposit needed

There is currently a welcome bonus ongoing. Simply register at Betinance.com and get instantly free Bitcoins to play on the platform. The promo event is meant for first 1000 registered users.
You can also refer Betinance to your friends and earn up to 2% referral bonus in 3 Level affiliate program. Your unique affiliate link can be found in your profile.

At Betinance the player does not compete with a casino but plays…
Streamex Brings Democratized Trading to the Crypto Industry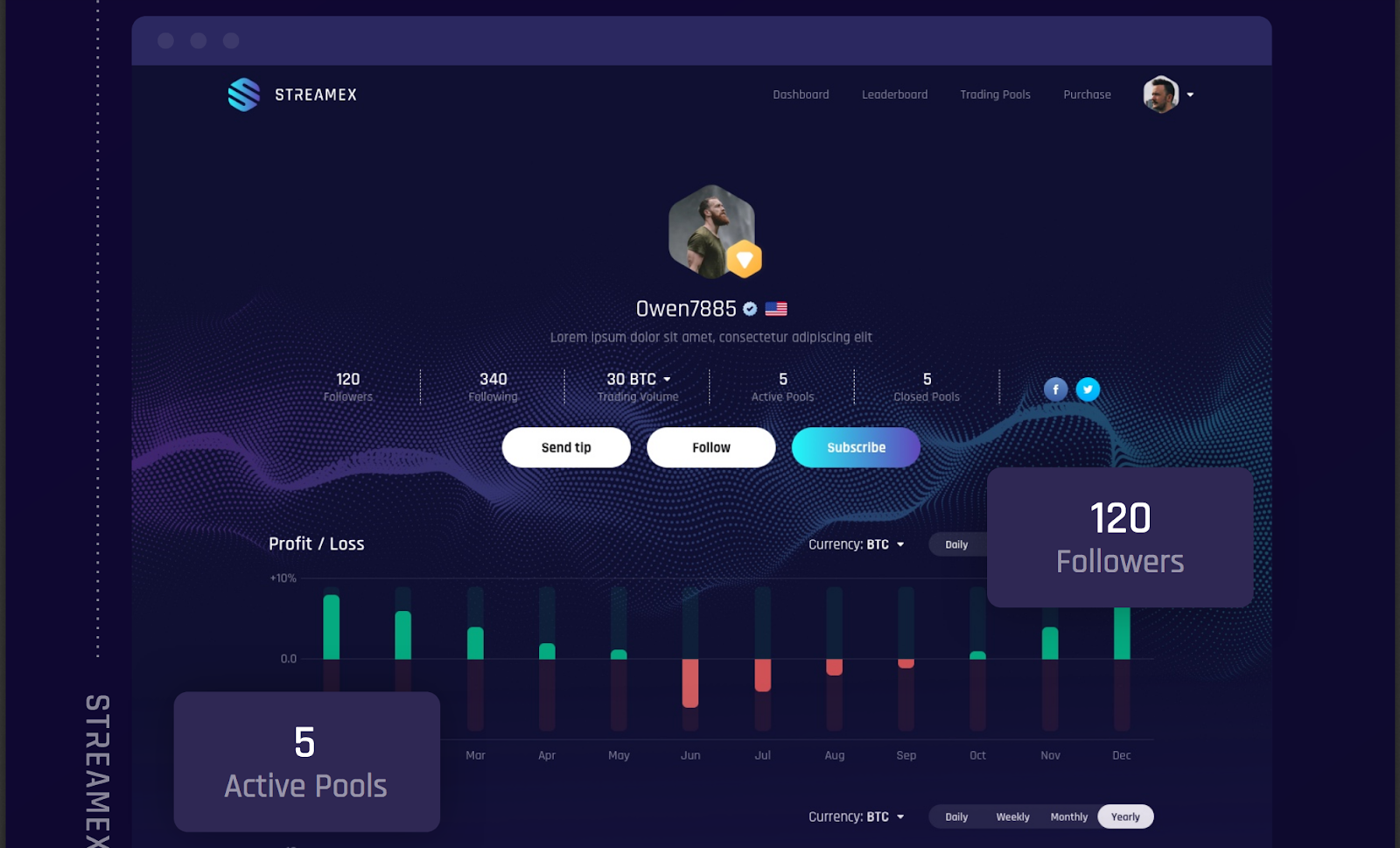 The crypto market continues its extended down period, despite consistent advancement in tech, partnerships and global adoption. While followers of the market speculate on the reasons for this, signs point to barriers between seasoned traders and new entrants to the market as a significant blocker to wide-scale progress.
As existing platforms cater to those already present in the market, Streamex.io is here to do something different. It addresses the issues stopping crypto trading from entering the mainstream, with a range of features to deliver greater levels of both user acquisition and retention. Streamex's fresh new "social trading" platform gives crypto trading what it needs to break out of the bear market, and reach new heights.
Crypto Needs to Embrace Traders of All Levels
Before and during its rise, crypto has seen many traders come from nothing to make huge gains. Yet today's trading platforms offer a high barrier of entry to new traders trying to make their way. So much so that it stunts the industry's growth, only prolonging the bear market.
It's easy to get overwhelmed as a new trader. Trading data is hard to decode, and much of the knowledge is siloed and hoarded by experienced traders. It's not ideal for these high-level traders either. It's in their interest to keep their…
The Highly Acclaimed PayDex, an Advanced Blockchain Payment Platform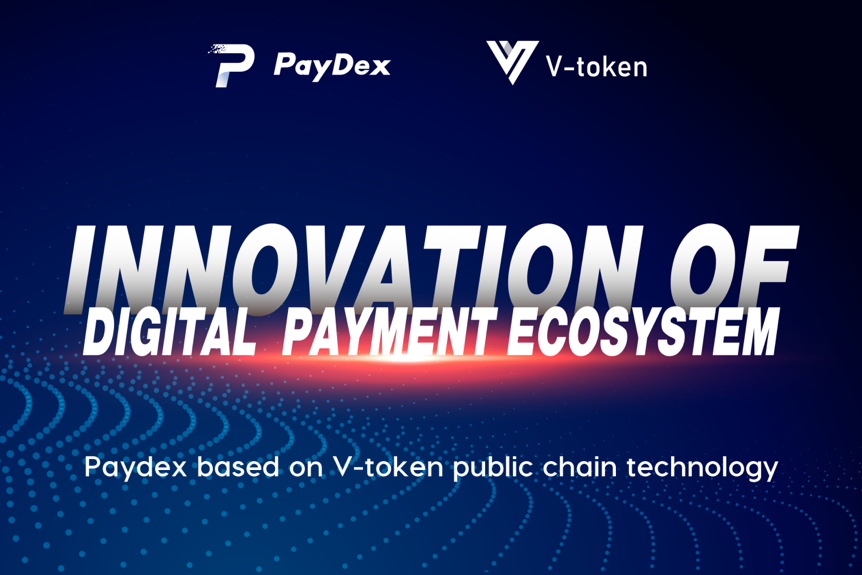 On March 6th, 2019, many celebrities of the blockchain industry were invited to gather together to have a private meeting between a high-end hotel in Cambodia.
There were many people attending this meeting, including Mark Minol, the founder of Paydex (V payment); Yu Lingxiong, the famous entrepreneur tutor, Chandler Guo, the well-known investor, and Yang Linke, the founder of Bitcoin China was also listed.
During the party, when the topic came to "How long does it take for Bitcoin to reach $1 million?", Chandler Guo once again answered this question in the most easy-to-understand language: 'Regardless of other factors, only due to the Bitcoin production was reduced. Starting from the mechanism, it is expected that Bitcoin would reach a million dollar after four times of reducing.
All the guests present here expressed their approval to Chandler Guo's point of view. Paydex's (Vpayment's) founder Mark Minol said that: 'Regarding the future development of Bitcoin, many people will focus on external factors such as macroeconomics and policy environment, but it is easy to overlook one of the most important and core mechanisms of Bitcoin – the underweight mechanism. External factors are endless, uncontrollable and unpredictable, but only by respecting the underlying logic and core design concepts of Bitcoin can we firmly hold Bitcoin and take advantage of the wealth express that is brought by the appreciation in Bitcoin. At the same…