BitMart Announces Strategic Partnership with TokenInsight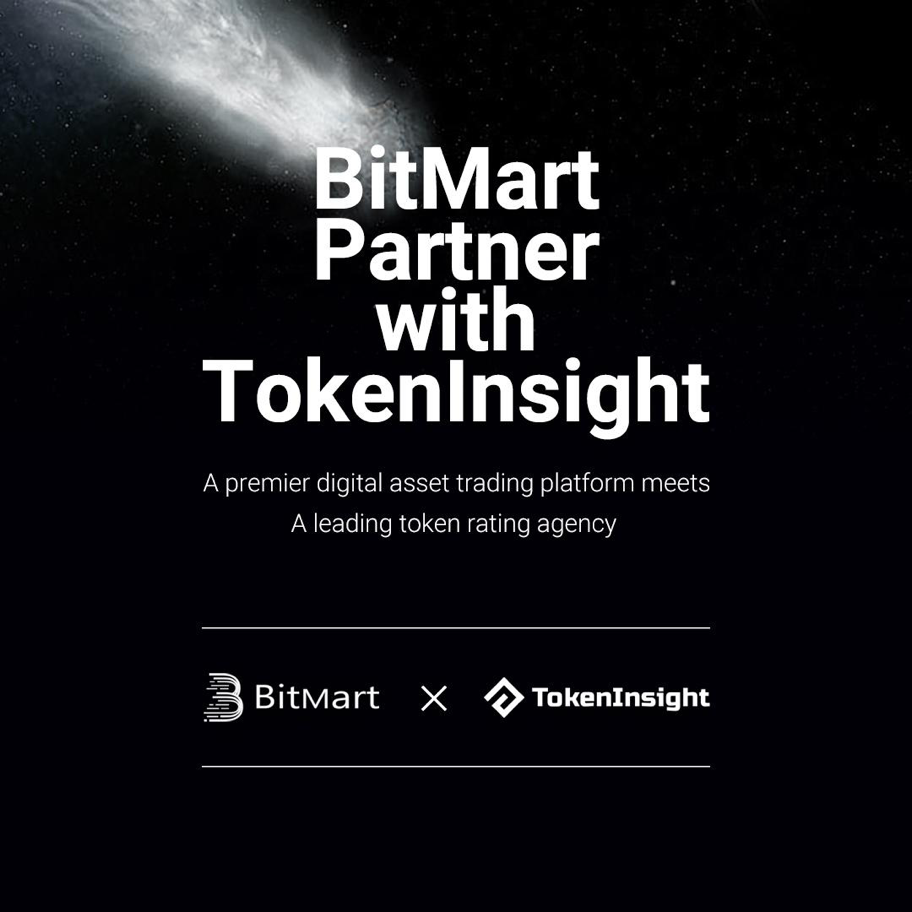 In an effort to create a more informative and transparent marketplace, BitMart Exchange recently announced their partnership with TokenInsight, a global token data & rating agency, regarding introducing project rating and reporting on a collaborative rating platform. This partnership will better serve BitMart's users and clients in terms of making more informed trading decisions.
TokenInsight is an independent third-party rating and data analytics organization whose focus is to provide token evaluation and ratings on companies developing in the blockchain industry. "We're really excited to be collaborating with BitMart as we feel that they are one of the most dedicated exchanges with a restricted coin listing process as well as an objective risk assess mechanism," said Jason Ma, Global Partnerships Director of TokenInsight.
To ensure the fairness and transparency, BitMart also has top project analysts and a 7-member project review committee in their coin listing team. With professionals focusing on marketing, operation, technology, products and integration, qualified projects will obtain complete listing assistance including code review, technical docking and publicity preparation, etc. BitMart also conducts Vote for Your Coin campaign every month in order to engage more users as possible.
After launching the collaborative rating platform, BitMart will introduce the token rating and data analytics from TokenInsight to provide users with easier access to unbiased information.
"It is our hope to expand BitMart's influence and research throughout the blockchain industry and to create a safer trading environment by introducing a third-party rating channel," said Sheldon Xia, Founder and CEO of BitMart.
From now on, users can go to BitMart Exchange page and check project rating next to the status bar (shown below).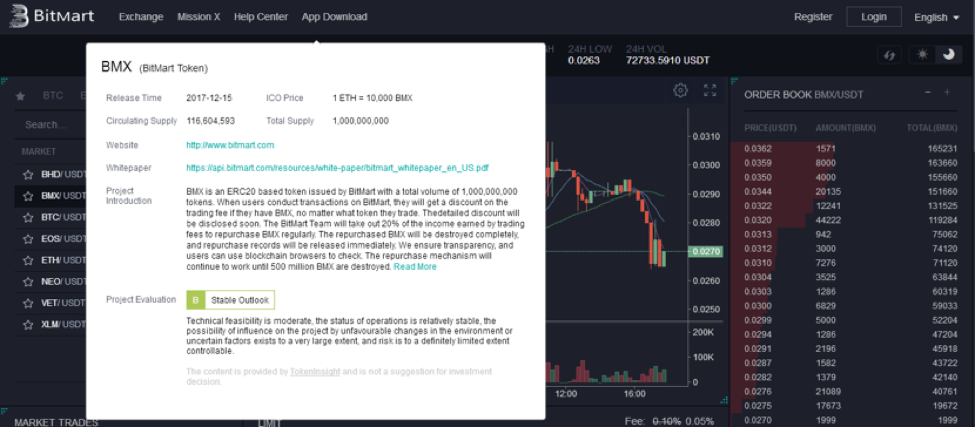 About BitMart:
BitMart Exchange is a premier global digital asset trading platform in the cryptocurrency market with over 503,000 users worldwide and ranked among the top 30 crypto exchanges on CoinMarketCap. BitMart currently offers 92 trading pairs with one of the lowest trading fees in the market. BitMart's daily trading volume ranges from $30,000,000 to $40,000,000 USD and total trading volume has reached over $1,869,000,000 USD since launching in March.
BitMart has also announced two promotions including Mission X: The Community Listing Market and BitMart's Registration and Referral Sign-Up Bonus program. To learn more about BitMart, visit their Website, Twitter or join their Telegram.
About TokenInsight:
TokenInsight is an independent third-party data analytics organization whose focus is to provide accurate information and ratings on companies developing in the blockchain industry. As we enter a new era of cryptocurrency technology, the relevant policies and markets surrounding this ecosystem have not yet been able to establish a fully regulated market.
TokenInsight seeks to establish institutional project assessment standards through a distinct framework of applied data science, artificial intelligence algorithms, and due diligence processes that result in accurate and insightful ratings. Through this process, investors and institutions will be able to better assess risks objectively with a comprehensive understanding of the projects and their potential. With our complete token database and advanced rating system, TokenInsight is to be the top resource for unbiased information that meets the highest standards of reporting.
Media Contact
Shirley Qian
CoinField Launches Sologenic Initial Exchange Offering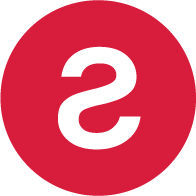 CoinField has started its Sologenic IEO, which is the first project to utilize the XRP Ledger for tokenizing stocks and ETFs. The sale will last for one week and will officially end on February 25, 2020, before SOLO trading begins on the platform.  Sologenic's native token SOLO is being offered at 0.25 USDT during the IEO.   
Earlier this month, Sologenic released the very first decentralized wallet app for SOLO, XRP, and tokenized assets to support the Sologenic ecosystem. The app is available for mobile and desktop via the Apple Store and Google Play.  The desktop version is available for Windows and Mac.
"By connecting the traditional financial markets with crypto, Sologenic will bring a significant volume to the crypto markets. The role of the Sologenic ecosystem is to facilitate the trading of a wide range of asset classes such as stocks, ETFs, and precious metals using blockchain technology. Sologenic is an ecosystem where users can tokenize, trade, and spend these digital assets using SOLO cards in real-time. The ultimate goal is to make Sologenic as decentralized as possible, where CoinField's role will be only limited…
Many of the Top Sports Betting Websites for 2020 Can Be Found On Boomtown's Best Betting Page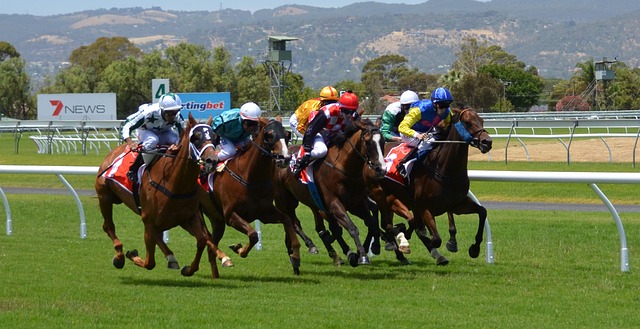 Sports betting is one of the widely known types of online gambling. With a large number of sports fans around the world, this type of gambling is one of the most sought after. The problem usually comes from when gamblers try to find the best sites out of the many available ones. Many new sports betting sites come up daily, thus making the selection process even harder. One of the best places to find top betting websites for sports is Boomtown Bingo. This platform doesn't just give users the best online casino games websites, but they also cover sports betting. As such, boomtown bingo remains a one-stop-shop for everyone who needs the best and the latest online gambling and gaming sites for all types of devices.
Performance
The performance of any website is critical. Users need to find their way around the site easily, and that can be made possible with the site structure and arrangement. Loading time is also essential. A website that always hangs thus pushing the user to refresh every time is no good. These are some of the factors that Boomtown Bingo looks into when selecting the best sites for its users. You can be sure that the new sports betting websites listed on Boomtown's platform have faster loading time, can be used easily by everyone,…
What Prevents Crypto from Becoming the Top Payment Method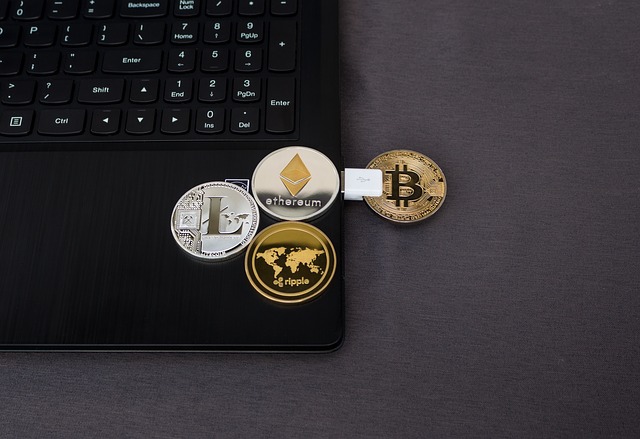 As globalization spreads over the planet, the need for fast and cheap cross-border money transfers is growing rapidly. Cryptocurrency provides exactly that kind of transfers with the added benefits of security and lack of centralization. However, despite being what seems like the perfect solution to the global money transfer problem, crypto has yet to become a major player in the currency arena. It's growing in popularity, that's for sure. But that rate isn't even close to what's needed for crypto to become a recognized and universally accepted payment method.
The question is why?
There can be no doubt that the need for what cryptocurrency can offer is huge. It's most obvious when considering the situation of migrant workers, who are also growing in number due to globalization. The amount of remittances in the world has risen to over $530 billion a year. However, the high cost of these transfers is such a concern that the UN launched a program dedicated to reducing those numbers to, at least, 3% by 2030.
One doesn't need a degree in economy and finances to see what kind of difference cryptocurrency could make for this situation alone. At the moment, migrant workers are losing about $25 billion in money transfer fees. There are still some remittance…