Enjin Smart Wallet becomes the world's first cryptocurrency wallet to support rich ERC-1155 and ERC-721 data
Enjin has released its latest update to the Enjin Smart Wallet, which showcases rich data and images for ERC-721 and ERC-1155 tokens (in addition to currently supporting 700+ cryptocurrencies). The update is expected to transform the gaming industry, with players now able to see, store, receive, and protect their items in a decentralized manner, thereby giving them true sovereignty over their in-game assets.
The wallet will initially support War of Crypto, Gods Unchained, and CryptoKitties, with many additions from various industries soon to come. Due to the ERC-721 standard's design, each legacy token will need to be added to the wallet manually. However, ERC-1155 tokens will be automatically integrated into the wallet as they are created, offering frictionless support for ERC-1155 adopters. To celebrate this momentous event, Enjin is giving wallet users who register at https://enj.li/giveaway, a free multiverse item that will be usable in several different games.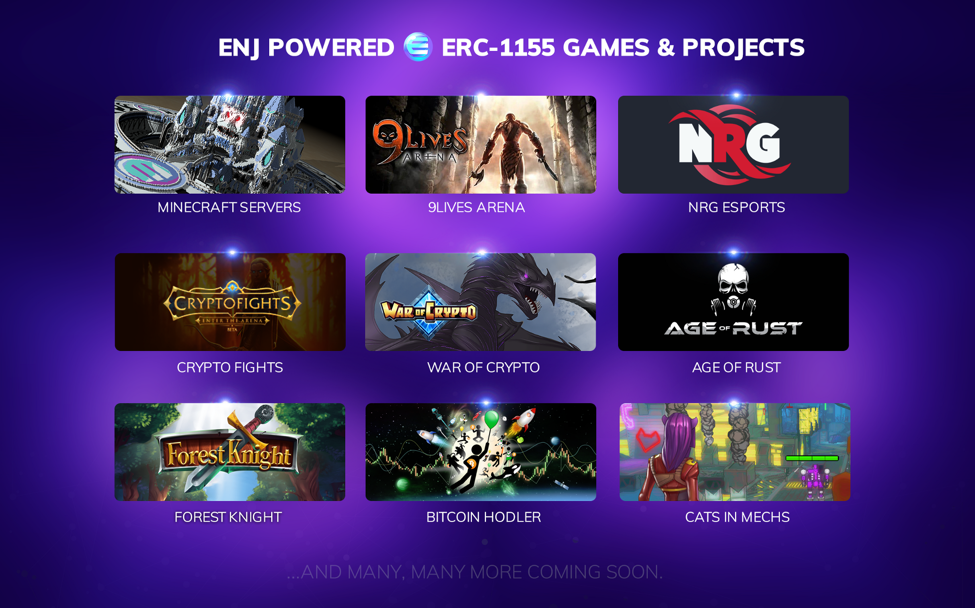 Arguably the world's most advanced cryptocurrency wallet, the Enjin Smart Wallet features a clean and intuitive interface, fingerprint login, the ability to monitor and manage unlimited blockchain addresses. The wallet also implements more vigorous security measures than most banking and finance apps, utilizing NSA-grade AES-256 encryption, Arm Compiler, RAM and Hardware Encryption, and a keylogger-proof keyboard.
The Enjin Wallet has received a high rating of 4.7 out of 5 (equivalent to 94%) in the Google Play Store, which offers the Android version of the app. On Google Play alone, users have downloaded the wallet more than 129,000 times. There have also been more than 81,000 downloads of the wallet's Android package file API, often used by app developers, and the Apple iOS version.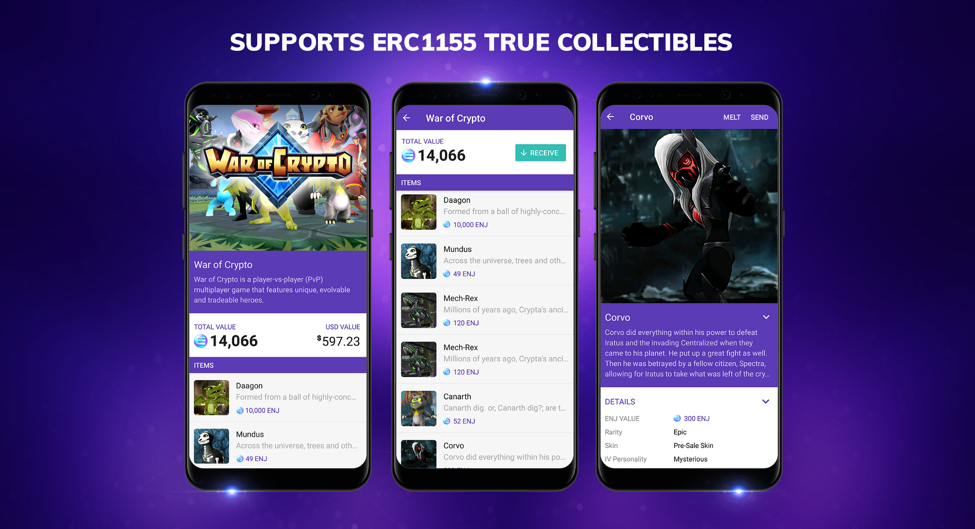 Enjin recently successfully launched their smart contracts on Ethereum's Mainnet, enabling developers to create their own ERC-1155 tokens with support from Enjin's robust suite of tools. These ERC-1155 tokens will soon be automatically added to the Enjin Smart Wallet, with users able to hold and manage them securely.
Announced in late June, ERC-1155 has created a sizable buzz as a token standard that opens a multitude of use cases for blockchain technology. Designed for flexibility, ERC-1155 enables minting of fungible, semi-fungible, and non-fungible tokens, meaning items minted using the token standard can be completely unique, completely identical, or somewhere in between. The standard is also far more efficient than ERC-20 and ERC-721, allowing users to initiate bundled transactions of up to 200 tokens at a time.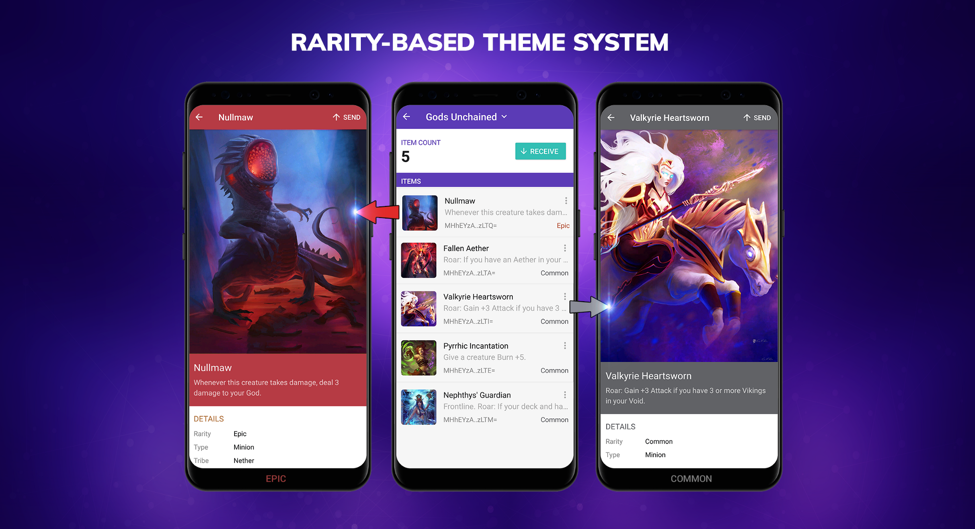 Enjin's soon-to-be-released blockchain explorer EnjinX will also provide native support for the ERC-1155 token. Acting as an encyclopedia for virtual items on the blockchain, EnjinX will enable users to verify the intrinsic value of items by accessing data relating to their scarcity, identity, history, providence, and authenticity. Seven games have already announced their adoption of the ERC-1155 standard to tokenize gaming items, with many more on the horizon.
Unity Technologies has also announced plans to list Enjin's Blockchain Software Development Kit (SDK) on the front page of their Asset Store. The Unity game engine is the world's largest game development platform. Adoption of Enjin's Blockchain SDK will enable 4.5 million Unity developers to mint ERC-1155 crypto items and manage advanced gameplay mechanics through transactions on the Ethereum blockchain. All users that wish to create ERC-1155 tokens through any of Enjin's development platforms will need Enjin Coin (ENJ) and Ethereum (ETH) to do so.
VOLUM (VLM) Announces Commencement of Token Generation Event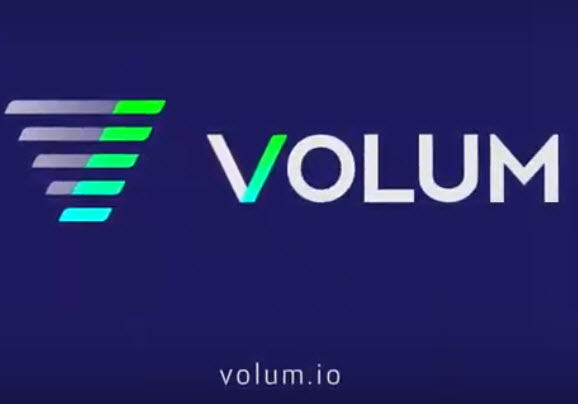 ESTONIA, May 4, 2019 – VOLUM (the "Company"), a multi-dimensional blockchain technology holding company, is thrilled to announce the commencement of the Volum (VLM) Token Generation Event ("TGE") beginning on Saturday, May 4. The VLM utility token is the native cryptocurrency powering the VOLUM supply chain and logistics management platform.
Driven by algorithmically intelligent software tailored to logistics and supply chain management, along with Internet-of-Things ("IoT") integrated functionality, and a backbone of hybrid public and consortium blockchain architecture, the platform is organized around the Volum (VLM) token. The VOLUM TGE will be managed by deploying ERC20 tokens on Ethereum Mainnet to maximize future access to cryptocurrency exchanges.
The VOLUM platform operates as a comprehensive control center for supply chain and logistics management operations. Companies who use this platform will be able to carry out a wide range of blockchain transactions including: Payments, Rewards, Purchase Orders, Legal Contracts, Regulatory Compliance, Taxation, Shipment Management, Letters of Origin, Customs Documents, Inputs/Outputs and Inventory Ordering, Delivery/Parcel Tracking, IoT Monitoring and Reporting, Big Data Analytics, and Inputs and End-Product Tracking/Traceability.
"The total addressable market for a blockchain-based supply chain solution is nearly $54 trillion globally, with the majority of the world's workers playing some part of this equation" noted Arnaldo A. Detrés, CEO of Bengala Technologies, LLC, the principle blockchain developer working to build the VOLUM platform. "However, blockchain solutions have been unable to…
How to Secure Yourself in Relation to Bitcoin: Top VPN Services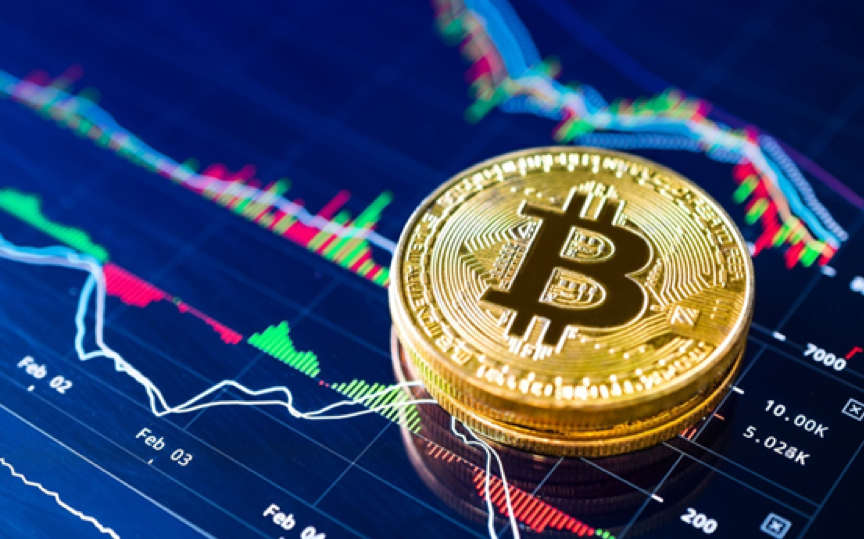 Nowadays, more frequently people opt to use cryptocurrency such as Bitcoin while dealing with financial transactions for its convenience, so its increasing prevalence isn't round-of-the-mill phenomenon but still, its users need to create fully protected cooltechzone to secure their data.
Recently, a great abundance of VPNs have started to accept it as a way of payment and it definitely makes sense: one buys VPN to retain anonymity on the Web, so why not to use the privacy-focused payment method? Paying for a VPN service with Bitcoins or any other cryptocurrency secures personal data from curious eyes leaving no traces.
What is a VPN?
Virtual Private Network (VPN) is generally presented by the group of linked to each other computers via the Internet. VPN boosts protection and provides a high level of anonymity to all types of Internet connections.
Security
While the connection to the ordinary Wi-Fi networks, a user usually gets access to the Internet directly, thus he becomes vulnerable to the hackers and the malware attempting to steal his personal data. On the other hand, applying VPN one transmits and gets data in encrypted form which makes it protected.
Anonymity
Generally, isn't hard to trace an Ip-address of any user and to identify his location with sufficient accuracy. With the help of VPN, the attacker will only get the address of the removed computer. Undoubtedly, the safeguard…
Is it legal to gamble in Bitcoin casino?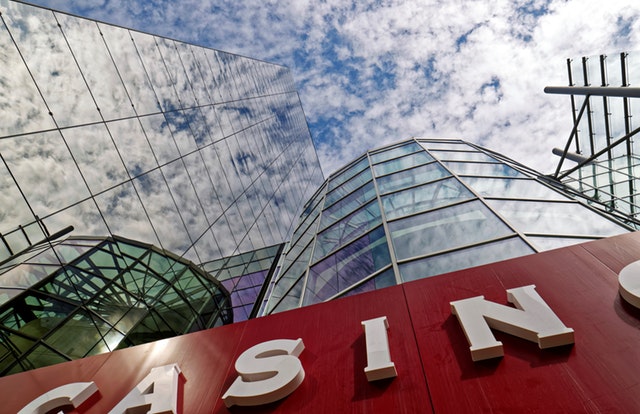 Bitcoin entered the world in 2009 and immediately begun a revolution on the cryptocurrency market. Presently, there are more than 700 different digital currencies, but Bitcoin still remains the most used one. However, despite the large business activity around Bitcoin, there is still no international legal law to regulate it.
Key facts on Legality in Bitcoin casinos
Laws and obligations concerning online gambling legislation vary from country to country. There are many jurisdictions that can issue gambling licenses to online casinos. But, these licenses are issued only after the online casino business meets the requirements of the chosen jurisdiction.
The necessity of Gambling License for Bitcoin casinos
In order to make it clean and clear, a reliable online casino will obtain an online gambling license. Among other things, it allows running a legal activity and assures the casino operator's trustworthy behavior, fair gaming policy and transparency in business operations and gaming software offered to customers. A representative of this kind of casino, such as FortuneJack for example, will have good reviews and reputation, and stable business that is constantly growing and expanding throughout the years. You can also feel the stability by checking the website, and important details such as casino withdrawal time and the number of games offered for playing, as you can examine on Fortunejack.
There is a difference between Bitcoin and Bitcoin gambling legality. There are countries…